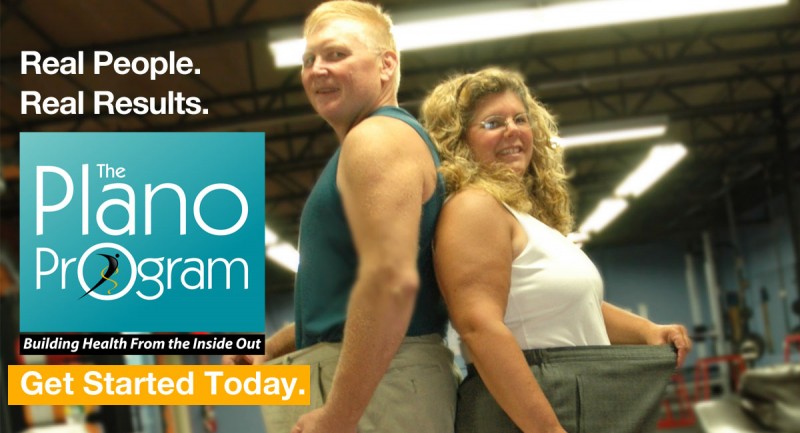 For effective personal training in Connecticut, you've found the solution!
"Marc Plano is an excellent trainer and nutritionist! His expertise and professionalism are extraordinary. His exercise program changed my life, and I have never moved better. I am on his weight-reduction program and making great progress."
Dr. Lawrence Wartel MD
Associate Chief of the Department of Obstetrics and Gynecology at Yale-New Haven Hospital
"After sixteen years of sometimes debilitating pain and three back surgeries, it was astonishing to be pain free after only a few months into the Plano Program. For over a year I have been off all medications for cholesterol, hypertension and diabetes.  Marc with his holistic approach has put together a team, with both breadth and depth, who are constantly honing their craft according to evidence based studies. Donna leads by example; she intuitively knows her clients and meets each of us wherever we may be in our process offering just the right mix of challenge and support. Dom with his keen knowledge and MAT technique has strengthened muscles weakened by surgical nerve damage. Amy has presented highly informative and eye-opening lectures on nutrition. The other clients are both inspirational and encouraging. The list of benefits goes on-pain management, stress relief, real weight loss, improved stamina and more learned at each training session. For those of you on the journey to wellness, I cannot more highly recommend making the Plano Program your fitness home. Quite simply, it works-real results!"
With gratitude,
Dr. Faye Heisler, M.D.
"After a brief illness where I was hospitalized for three days, I knew it was time to start living a healthier lifestyle for me and my family. Lifestyle being the key word. Diets come and go, lifestyle is forever. The Plano Program has helped to put me on the right track. Amy and Marc have created a program that fits my needs, simple to follow and pushes my limits. Their positive attitude and inspirational coaching has helped me through both good weeks and challenging weeks. Although I'm still at the beginning of my journey, I'm eating right, getting stronger and most importantly living healthier. I've lost 20 lbs in a few short months and well on my way to my goal. That is, my goal of being HEALTHY…thank you Plano Program"
Chris Diana
Plano Program Participant

"I have a very busy life and was always eating late or on the go. As my weigh began to cause health problems, I knew I needed help. Marc customized a plan to fit my likes and needs, as well as my hectic schedule. I noticed progress immediately, as began losing weigh fast. Now, after losing 25 pounds in twelve weeks, I have more energy, look better, feel great and know how to eat to maintain a healthy weight. The Plano program is user friendly, extremely effective and the food is great (you will eat a lot!). I would recommend to this program anyone trying to lose weight, looking to eat healthier, or simply looking for a lifestyle change."
Matt Tremper, CT
"Marc's Plano Program totally changed my life! I now make better food choices and feel like a new person. If you are looking to change your eating habits and get healthy this is the program for you!"
Debi O'Neil, Hamden CT
"Marc, I just had a call from my cardiologist regarding my blood work. My cholesterol has gone from 244 to 209. My LDL's are 89 and my HDL is 105. He said whatever you are doing, keep doing it! Thanks for giving me something that works."
Debbie Ohlsen, Hamden CT

"During the past 3 years I have been to a number of different doctors ranging from gastroenterologist to naturopathic doctors to primary care doctors. When I first started speaking with Marc, I was tired of running around in circles looking to find what was causing me to have stomach discomfort everyday. I had gotten dozens of blood tests, ultrasounds, and procedures done to try to figure out what I had. The tests always came back that I was "normal." My doctors had prescribed a number of different pills for me to try, all of which failed to make me feel better or simply masked my symptoms. I tried a number of different diets by cutting out certain foods and increasing others. Still, nothing seemed to help my stomach feel any better.
Frustrated and tired, I arrived at Marc's office still hopeful that I could get to the bottom of my problem. I had a few simple tests done by Marc's recommendation and I received an abundance of feedback and helpful information that put me on the track to feeling better. I found out that I had numerous food sensitivities to many of the "good-for-you" foods that I had been eating on a daily basis. I started on a dietary supplement regiment and cut out all foods that I was sensitive to. I felt better immediately; I no longer had any stomach pains or discomfort. It has only been two months since I started seeing Marc and I can honestly say that within these past 3 years, I have never felt as good as I do now!
Lisa Murphy, Durham CT
"I contacted Marc in hopes of changing my diet in order to feel more energized and drop a few pounds. What I got was a whole lot more! The weight came off as expected, but the information that I learned regarding food choices and food quality is something that continues to be a learning experience. I find myself in the grocery store analyzing labels and choosing items based on those findings. Something I had NEVER done before! Some items that I had been purchasing for years are now in the past! As a result, my energy is through the roof and I feel "clean" inside. Marc continues to be there to answer my questions even though my time with him is over (for now!). I would recommend this plan to anyone who is looking for a well rounded, life changing program."
Kathy Proto, Orange CT
"Marc has helped me with lower back pain that has been plaguing me for years. I have had injections, and seen Dr.'s of all kinds with little to no success. After a lengthy assesment Marc informed me of all of my biomechanical deficits which was most likely contributing to my low back pain. We worked together over the next several months on mobility, strength, massage, and a anti inflammatory diet coupled with changes in lifestyle. In less than 3 months my back pain is virtually gone."
"Thank you Marc for allowing me to live a pain free life again!"
Linda Arkison, Wallingford CT
"After following Marc's advice & suggestions, I have evolved as a person as well as a trainer. As a full time personal trainer for the last 10 years I look to Marc for solid advice about nutrition, training methods and wellness. Thanks Marc for getting me on the path to personal & professional growth and success!!"
Sincerely,
Frank C. Machado
"My Dr. personally called me today with blood work results, usually he has his nurse call. He is stopping 2 more medications. My A1C was 5.8 so he is cutting out a diabetes medicine that I took twice a day. My Triglycerides were at 110 so he said to stop the tricor altogether. My overall cholesterol is 102…I can't believe all this happened in less than 12 weeks. Marc, thanks!!!! You put me on the right track. I will be forever grateful!!!"
Rick Dematties, Hamden CT
"The Plano Program has significantly changed my life for the better. I have more energy than ever and am losing weight that I've carried for years! I find the program easy to follow, there is plenty of food to eat and I love eating so healthy. With the Plano Program, I have consistently lost a good amount of weight each week. My trainer Donna has pushed me further than I ever thought possible. I highly recommend this life changing program to anyone that wants to make positive and healthy changes."
Sharon Bukowski, Hamden CT
"When I first sat down with Marc to discuss my training, physical, and nutritional goals, I had a fair idea of what I wanted but no idea of how to achieve success. After being a college athlete in prime shape to becoming the average 20lbs overweight, work-a-holic with a busy schedule, an addiction to cardio, and somewhat lax nutritional habits, I knew I needed professional guidance. I enrolled in The Plano Program and began the course to a healthier me. Although I was first concerned with lifting weights and strength training, for fear that I would gain large muscles without slimming down, I can confidently say that the variety of workouts along with the nutritional focus and my overall dedication to the program have helped me to transform my figure, losing the weight, becoming more toned and developing lean muscle. Every time someone compliments me now, I am happy to sing Marc's praises – I couldn't be where I am without him, and don't think anyone else should have to be either!"
Talia Fedorowich, Shelton CT
"Thanks Marc and Donna for guiding and inspiring me through these months and for the rest of my life. I am now very proud of myself for what have achieved and what I have learned. I now know how to make the right food choices and to be active. I struggled my entire life with my weight loss and I finally understand that it is a lifestyle. I've lost 32 pounds and feel healthier and better than ever. Thanks again!"
Gigi Mcdougal, Orange CT
"The Plano Program has allowed me to lose more weight in the last 12 weeks than I was able to do in the last 20 years. And I have done this while still enjoying good, tasty organic meals and snacks and not starving myself or feeling hungry all the time. It has also permitted me to cut back on my diabetes medication – glyburide — (at my physician's insistence) and still achieve lower daily blood sugar numbers than since I was first diagnosed with Type-2 diabetes more than 6 years ago. It's a great program!"
Al May, New Haven
"This past fall (2010), I was a part of the Greater New Haven Jewish Community Center's "Largest Loser" contest. During this time, the JCC had the wisdom to have Marc Plano give five different nutritional lectures to all the participants.
I followed Marc's suggestions as close to 100% as I could, and I couldn't be happier with the results. Between the exercise and Marc's dietary guidance, I lost 30 pounds in eight weeks. What's even more exciting is that my body fat percentage went from 30.4% at the beginning of the contest, to just 17.1% at the end. All in eight weeks!
Because of Marc's suggestions, during the contest (and still to this day) I was able to eat way more than I normally would have while still losing weight, because I was learning to eat healthier. Not surprisingly, healthy foods very often have less calories than "junk" foods, so I'm not only now eating a healthier, more balanced diet, but I'm eating more quantity, more quality, and more often too.
One surprising side effect… My wife, who didn't exercise at all during my participation in the contest, followed my new healthier way of eating, but not as strictly as I did. If I followed Marc's suggestions 100%, then she might have followed what I was doing 75%. And just by doing that, she lost 10 pounds during the same exact time span.
My daughter's eating healthier, my wife is eating healthier, and I'm eating healthier. It's not a "diet". It's just a smarter, healthier way of living life. We all feel better about ourselves, and we're all developing healthier lifestyle habits because of it.
I would definitely recommend Marc Plano's services. He's there for you when you need him, he's responsive, and his expertise can help you achieve your goals."
David Chorney, Hamden CT
"I must tell you,The Plano Program has changed my life forever; I have found a new me! Coming from a girl who had a myriad of health problems, this life style change has changed some of my health issues for the better. I lost over 20lbs, my energy level has increased, my ankles swelling went away- overall I feel GREAT. I have to say I was so worried about not having enough to eat and little did I know the plan was nothing to be afraid of and there was more than enough to eat in any given day. Marc has been so educational about lifestyle and nutrition. If you are ready for a life change, and ready to get healthy; The Plano Program is a must!"
Jennifer Waterbury
Orange, CT
"Before I had the opportunity to work with Marc, my daily life consisted of unhealthy eating and intermittent exercise. I would not take the time to prepare meals in advance therefore eating on the run led to establishing very bad habits. Through the Plano Program I have been taught the importance of changing my eating habits and exercise regime. I feel I am much more educated about the choices of foods I put into my body and the long term effect those choices can have on your body and mind. I believe the two go hand in hand. I can now say I feel 100% better physically and mentally and have made the committment to changing my lifestyle to maintain a happier, healthier attitude about myself. Learning change begins from the inside out and can only be successful with the desire to help yourself has helped me achieve my goal."
Thanks Marc,
Sue Hulley, Cheshire CT
"Thanks so much for all your direction, help and advice during the Jcc's Largest Loser Program. Some of my fellow participants, who didn't take advantage of the Plano Program, for whatever reasons, just didn't lose the weight they would have had they followed your advice. I have been dieting for years, everything from low calorie, to high complex carb/low fat to low carb or no carb and beyond. Those and other "diets" are not sustainable. The Plano approach is so much better, more healthy and realistic. My family and I ate a larger quantity of food on the plan while losing significant amounts of weight; before we started the program we were all gaining weight. What we learned from the Plano Program that it's what you eat, when you eat, and why you eat it.My wife did the nutrition portion plan with me. She didn't do any exercise and lost 30 pounds in 8 weeks. Now obviously the exercise is extremely important but look how powerful the nutritional concepts of The Plano Program tools are alone.Marc, thanks again for all your help."
Jeff Weissman, Woodbrige Ct

"My weight has gone up and down for most of my adult life. I have tried every diet and I thought I was fairly educated about healthy eating until I met Marc. Marc is a wealth of knowledge about exercise, nutrition and what works best for each individual person. I have always exercised, but never the right way. Marc developed a workout routine that gave me far better results from a weight and cardio standpoint. Food used to have power over me but working with Marc has given me the power and control over food. I have lost weight in the past but never had the ability to keep it off. Marc has given me the knowledge and empowered me to know exactly what to do to stay healthy and fit for the rest of my life."
Jackie Weiss, Wallingford CT
"When I walked into The Plano Program, I thought I'd be learning some stretching techniques to help alleviate pain. I was in terrible shape; extensive back problems including 2 major surgeries, overweight and undernourished, exhausted all the time. I felt depressed, discouraged and defeated-my "mojo" was lost and worse yet, I didn't even have the drive to find it again. I'd been on every diet around and thought I knew how to eat/not eat in order to lose weight. I just wanted to stretch to help the pain.
Marc is so knowledgeable and supportive. He determined that my low fat diet was actually hindering my weight loss and designed a healthy eating plan for me that actually eliminated my cravings for sugar and carbs. This absolutely blew my mind! I've been doing it wrong for years!
He designed an exercise plan for me taking my special needs into consideration. The combination of cardio, strengthening, weight training, stretching and massage is actually helping my back feel better! Marc's constant attention to my maintaining proper form insures that I won't injure myself and his constant positive reinforcement keep me motivated.
Two months into my program, I've lost 20 lbs. and 8% of my body fat. I have more energy and endurance and I'm stronger than I've ever been. My constant back pain has lessened and my attitude has improved tremendously!
Marc continues to review my food journal to insure I'm staying on track and makes suggestions to insure I'm receiving maximum nutritional value from the calories I consume. He encourages me to do and be my best. Marc is compassionate, knowledgeable and professional. I have total confidence in his conviction that I will reach my fitness goals and achieve health, "from the inside out".
I have seen positive results in every aspect of my life since I began my program. I strongly recommend "The Plano Program" to anyone who is ready to commit to themselves. You WILL see the results you desire, I promise!"
Marlene Wilcox, RN-Orange CT
"I used be a non-believer in the total body workouts that focused on flexibility and core strength. Since we started working out with you, I learned that those things would be the key to making strength gains and weight loss. I've lost 14 lbs and my lean body mass has remained the same. I've managed to increase my weights in lifting exercises, increase the number of pull-ups and pushups I can do and the other day I ran a 7minute 30 second mile, something I haven't done since high school. Now I just have to go out and buy new pants and shorts. My waist hasn't been this small since middle school."
James Zamkov Orange, CT
"I just want to share with you how much you have inspired me! In two weeks, I feel different, happier, less irritable, more energetic and more importantly….healthier! I just want to thank you for your vast wealth of knowledge and for opening up my eyes to the world of good, wholesome healthy food. It's not about compromising but a change!….a good change that I feel is happening to my body from the inside out."
Marissa V. Laticrete International
"Marc's Metabolic Typing and Plano Program really works. I have had severely reduced kidney function for most of my life. Since I started the metabolic typing program 2 months ago my kidney function has improved by over 40%, energy and endurance levels are much higher and I have lost 16lbs. It is true when Marc stresses the importance of your body having the proper pH balance."
Mark Vallas, Branford CT
"It had finally come to that time that I needed to take care of me!Although I have never had a weight issue, my eating habits, energy level and lack of exercise were weighing me down.Marc's full program (metabolic typing and training) have really made a difference in my energy level, body, and overall being. It is extremely motivating to see results that are totally achievable!!!"
Lexy Onofrio, East Haven CT
"Since starting the Metabolic Typing plan with Marc about 3 weeks ago, I feel fabulous. The extra few pounds I was carrying seem to have fallen off, and my energy level has increased. I have a general feeling of well-being that I never had before, even though I thought I was eating right and exercising. It's the small changes that can make all the difference!"
Jacquelyn Waddock, Guilford CT
"After a recent visit to my Dr. It was revealed to me that I had Syndrome X, and was very close to becoming diabetic. Marc's MT program changed my life. He performed a comprehensive test which revealed specific things about my metabolism to help determine which foods and supplements I should be taking. After 6 wks. on the MT program my Dr. said my blood sugar was perfect."
Bob Shea Montowese Meat, North Haven
"When I became a stay at home mom, my diet and exercise regimen disappeared. Marc got me back on track! I have a great diet that works with my Metabolic Type. The personal training sessions are great and Marc is motivating and extremely knowledgeable. The results are wonderful! I feel and look as fit as I did before I became a mom."
Lori-Anne Murgo, East Haven CT
"There comes a time in everyone's life when you have to come to the cold realization that your body has changed. That was me a few months ago."
"I realized that if I did not do something soon that my health and wellbeing would slide so low, that I might not recover. Even thought I was not grossly overweight, I felt it. I had tried many different diets and also observed many people at work using a type of protein shake diet. While they were experiencing major weight losses in a very short period of time, no one looked well."
"This is when I found Marc; he was referred to me by a friend who is also a trainer. His exercise program and metabolic testing put me on the right track. The metabolic testing opened my eyes as to what were the right foods for my metabolic type. The program is easy and it works. His exercise program will make you sweat, but it is worth it. I have lost weight and inches. I am down a dress size. This is all after only 13 sessions(5weeks). But better than that, I feel so much better physically and mentally."
Joan Gordon Orange, CT
"My experience with Marc and Optimal Results was outstanding. Marc worked with me on both my diet and my physique. The changes I saw in my body after working with Marc are results I had not achieved with any other personal trainer. Marc created a diet based on my personal goals. It was easy to follow and included a variety of foods that I could purchase in my local supermarket. The meal plan was not based on powdered drinks or pre-packaged meals. When my life got hectic and I needed something a little different, Marc simplified my plan to fit my changing lifestyle.
Marc's personal training techniques are superb. He has a wealth of knowledge around physiology and bio mechanics and works all of the muscles thorougly at each training session, exhausting them without over training them. Marc is able to work with people from all walks of life. He has experience working with competitive athletes as well as working with people with handicaps and special needs, targeting areas they need to strengthen".
"I recommend Marc and Optimal Results without reservation".
Regards,
Anonymous
New Haven County Board Certified Pediatrician
Fellow of THE American Academy of Pediatrics
"The Optimal Results System of weight-loss and body shaping was the first program I've ever been involved with that was easy to follow and most importantly, medically sound. Marc adjusts diet and exercise to your personal level of fitness,activity, and medical condition to help you achieve maximal success and to maintain success after a goal is reached. For a serial dieter, as most of us are, learning which foods are both nutritionally sound and satisfying makes adherence to the program simple and easy. Marc's knowledge of anatomy and physiology allows the client to actually transform their body shape when exercise is combined with his diet. From both a personal and a medical viewpoint, I cannot recommend Marc Plano and Optimal Results System highly enough. Learning to eat healthily can actually be done, and enjoyed!"
Lisa Jamron, M.D.
Diplomate, American Board of Anesthesiologists
"A system of science, sophistication, and simplicity. A system that uses real food as our bodies medicine to naturally balance the system. Marc's Metabolic Typing Program is an easy to use program that I use on a daily basis and feel comfortable recommending to all my patients, finally a plan that makes sense. There is no one size plans that fits all, the only plan that is right for you is the one that based for your Metabolic Type!".
Dr. Mark Carrano
Carrano Chiropractic of East Haven.
"Last February I wasn't feeling well, always tired and run down. After a visit to my Dr. it was discovered that my triglyceride level was 538. The Dr. said I was a prime candidate for a heart attack or a stroke. A good friend of mine recommended "OR". I have been on the plan for 10 months and have lost 52lbs and 10% bodyfat. I have gone from a 44 to 36″ waist. A recent blood level test revealed that my triglyceride levels are down to 125! Thanks to Marc and "OR", I am enjoying a much healthier, happier, and nutritious lifestyle!"
Ron Depoto, Hamden CT
"All my life I have fought a never ending battle being overweight. You name the diet I tried it. Over the years I must have lost eight or nine people. I would lose 50lbs. and in a short time I would gain 65 back. After my husbands medical problems, I decided that we should try "Optimal Results" well,10 months later, 72 lbs lighter and 13.5% loss of body fat, i have gone from a size 24 to a 14. It was easy. Our menus was customized for us. There was no guesswork or decisions for me to make. I have learned a new way of eating. I am never hungry and I have more energy than ever. Thanks to Marc and his "OR" program I believe I have found a healthier way of eating."
Sandy Depoto, Hamden CT
"Finally an eating plan that is easy for me to follow and fit into my lifestyle. I eat 5-6x a day, have more energy and feel better than I ever have before. My pants size went from a snug 16 to a size 10 in 8 weeks. It's 1 year later and now a size 8…I'm sticking with OR for life."
Peggy Grizzle, Miami Beach Fl.
"Marc has been my trainer since the spring of 2008. His dedication, knowledge and understanding of my individual needs is amazing!. Each of Marc's training sessions are intense, well planned out, challenging and effective. He works me through my comfort zone and by his vigorous workouts through weight training, cardio, stretching, and floor exercises, I get the most I can from each of these sessions, while his continuous verbal feedback keeps me going.
I have been extremely impressed with the variety of routines he has guided me through. Besides guidance in this area he also has motivated me in keeping track of my eating habits through a food journal. When you leave each session, Marc will also write down workout programs that are feasible to do on your own. He has taught me how important it is to focus on consistency, having a good mind set and to keep a positive outlook on my well being.
Since I started training with Marc, I admire his patient disposition as a trainer, as well as his attitude and incentive he portrays. Besides the 100% he puts into making sure I have the proper form to every exercise, he always will emphasis on how important it is to be able to cope with an everyday busy schedule. He has taught me to value my health as a number one factor .
His fitness program has been suitable for my needs and I am thankful to experience the opportunity in having Marc as my trainer. He has taught me to be more positive, and as a person he has made me feel much stronger both emotionally and physically. For sure it takes two to make this whole process work to see growth and changes, but I know it takes a strong trainer for this to happen. I highly recommend using him as a remarkable educated trainer who is dedicated to his clients, and has been a huge support in making all around changes with my life style. I look forward to continuing to train with Marc Plano!"
Ellen Greenberg, Milford CT
"As an amateur mixed martial arts fighter I am very serious about fitness and was a little skeptical when I first heard of metabolic typing. In this industry, there are plenty of diet & training regimens. But with Marc's program, I saw definitive changes within the first few weeks and can honestly say that he has brought my training to a completely different level that I had never thought possible. My energy, endurance, speed, and recovery have all exceeded my expectations. Anyone who is serious about weight loss, training, or just a better overall way of life should talk to Marc about one of his exceptional programs." ~
MMA Fighter,Handsome Edd Abel Orange CT
"I initially pursued personal training because I was persuaded to do so by Eleanor. I have been struggling with my weight off and on for 25 years. I have been a yo yo dieter and a yo you exerciser. I had initially inquired about how to use the equipment and weight machines, because many people had told me that using weights would help me in my "efforts" to lose weight, get toned, etc… Eleanor said she would be more than happy to show me how to use the weights but highly recommended that I get a personal trainer, because they would be just that – personal. They would work with me, determine what my goals were, and set up a program that was specific to my needs and desires. I was very hesitant to do this but I reluctantly agreed to give it one session, and see how it went. I "thought" I had all the tools to be successful in maintaining a good weight/body, and while I have come to learn through this experience that they weren't the best tools for me, what I did have, and what I was successful with in the past, I wasn't using. I started with Marc Plano at the end of July. What impressed me the most initially was his confidence in his program and in himself. I left our first meeting with a sense that he truly believed that I could be successful if I followed what he suggested. While I doubted myself and/or what he was telling me, his conviction sold me on giving this a try. I am continually impressed with his knowledge about nutrition and exercise, and his constant pursuit of continuing education in the wellness industry.
Marc takes his career very seriously and I feel that he goes above and beyond the call of duty as it relates to his clients. Marc requested that I fill out a food journal for the first month of working with him. Each week he gave me feedback and suggestions as to how to modify my diet to maximize the results I was trying to achieve while still ensuring that I was consuming enough calories and getting in all the right things for a well rounded diet. He was extremely helpful in this, and really showed me the way to eat not only a healthy diet but one ideal for my body composition. He was really diligent and detailed with this and always provided me with the nutritional relevance behind his suggestions. He actually let me continue to send these to him until I felt comfortable enough to be on my own, which took about 3 months.
Marc has always provided me with the encouragement that I need and has been extremely patient. He has continued to provide feedback in where I could use improvement and where I have gotten things just right. He also continues to provide me with information and resources that will help me continue down this path of healthy living. It is truly obvious to me that he is engaged in my success. At this point, I have lost 14 pounds, and approximately 7% body fat."
Abby Silbert, Bethany CT
"I started working with Marc about 6 weeks ago and I have to say that I couldn't be happier with the results that I have achieved. I came to Marc after working with other trainers and remaining about 45 pounds overweight, frustrated, and feeling hopeless. By following Marc's nutrition and exercise plans exactly, I have managed to drop 21 pounds in six weeks. I feel healthier, have more energy, and have been getting a slew of compliments from family and co workers alike. Though his plan is tough and has taken a lot of determination, I would highly recommend his services to anyone that is frustrated with other plans and wants a plan that has a focus on individual likes, needs, and most importantly overall health. Thanks Marc!"
Shaun Riordan, Orange CT
"Training with Marc had an immediate impact on me and helped jump start me on a lifelong journey. His holistic approach focuses on exercise, nutrition and attitude. His dedication to studying health and nutrition comes through in his expertise and passion. Marc has given me the tools and insights I need to adopt a healthier lifestyle and I enthusiastically recommend him to anyone who is serious about getting and staying in shape!"
Charles Gamble, Bethany CT
"I was put on my first "diet" at age 8, when my parents sent me to a Weight Watchers Camp in Amherst MA. I spent the next 7 years losing 15-30 pounds in the summer and gaining 20-40 during the school year. 34 years since my first summer at camp I have probably gained and lost over 1000 pounds. I was never able to imagine myself as a thin person. With so many successes, yet followed by so many failures, I never believed I could do it.I felt like I hit the jackpot when I was selected to participated in a Largest Loser competition at my local gym. I was selected to the green team with a trainer who was in better shape then anyone I had ever met. Initially I did not know what to expect or believe. I had been taught so many different things, yet nothing seemed to work. Marc said "trust me…has what you have been doing worked thus far?…" I knew the answer was a resounding NO… Needless-to-say, I have been transformed… I have learned a new way of life. I look at food and exercise in a completely different way. Marc taught me how to exercise efficiently, effectively and intelligently. I never knew I had any sweat glands! His knowledge of nutrition is incredible. Learning to eat red meat and FAT again has been an awakening and my body loves it.Marc is caring, compassionate, seasoned and smart. He has what it takes to TRANSFORM people's lives. He has done it for me and so many others. I only hope he can share his gift with many more!"
Emily Sandberg, Woodbridge CT
I made a commitment to follow exactly the meal plan you recommended based on my metabolic testing results. It took me a long time to really try it the right way because it was the opposite of how I had been eating for most of my life! Wow! What a difference! I actually lost 10 lbs. in that month and a half without suffering from deprivation, weakness and hunger related headaches like I had experienced in the past.""Weight loss was never permanent and always unpleasant. I can lose weight by adding fat to my diet! How great is that?! Since I wasn't a big fan of meat, poultry, or eggs, I wasn't interested in making the necessary dietary changes you recommended. Now that I have, I understand why I was so famished, lethargic and deprived all the time and struggling to maintain a desired weight!"
Joni Nordstrom, Orange CT
"Being chosen for the Largest Loser ,09 Woodbridge and having Marc as a trainer just simply changed my life. Marc's knowledge of health ,nutrition and believing in oneself was evident in his total commitment in every part of the program. His training style quickly made me a believer in his program, he taught me to exercise smarter, and to have the confidence that I can do it.
I will always hear Marc in my head saying, "Anything is possible"
I truly believe it-
Thanks Marc-
Donna Vigliotti, Hamden CT
"I have always been a scale stepper. I need to see results to keep me motivated. With Marc's plan, I was amazed that week after week I kept seeing the weight go down. The lower the number the more incentive I had to continue. On previous diets I would only see results in the beginning. The weight loss would slow down and so would my enthusiasm. I have lost over 50lbs on Marc's meal and strength work out plan. I have never lost that much at one time before. I still have more to lose, and this time I know I will reach my goal. Marc makes it so easy to do. I don't feel like I am on a diet."
Cindy Taylor Bethany, CT
"Last spring I was in a rut with my old workout routine, wanted something different, and then was introduced to Marc. Under Marc's guidance, I feel re-energized and have broken through some old barriers. Marc is a true professional. His approach to nutrition is balanced. His training sessions are both challenging and fun. In the 12 weeks that I have been working with Marc, I have lost weight and inches. My body fat has gone down, and my lean body mass has increased. I strongly recommend Marc to anyone serious about their health and ready to take to take the next step. You won't be disappointed!"
Erica Gamble Bethany, CT
"I would consider myself to be a pretty healthy individual for the most part who enjoys living a holistic way of life, however my excitement and zest for life has turned out to take a toll on my system, namely my hormones and adrenals. I contacted my friend Marc when I decided I wanted to take my hormone and adrenal recovery to the next level. I had arrived at a place where my energy levels were plummeting and my menstrual cycle had ceased. I began the journey back to health through the various protocols that Marc suggested for me specifically based on my symptoms. Within a matter of a week I was feeling more energized, my sleep had improved, and my hormones were becoming more regulated. What I really loved about this experience was the one on one attention I got from Marc. He broke it down for me so it was applicable and comprehensible to me and my condition. The whole treatment is totally catered to the individual which I really appreciate, there is no one size fits all approach here. Marc educated me along the way and really took the time and energy to make me an active player in the healing process. I am thankful for Marc being so caring and compassionate yet very honest and real at the same time. I look forward to working with Marc in the future and many years of wellness to come."
Kyla B. Denver, Colorado
"Marc Plano is a remarkable trainer. If you are ready to make your goals a reality he is your man. You will be most of all impressed with yourself with the strength you will achieve under his management. It is the greatest feeling to eat a clean diet and enjoy the benefits of your body being able to complete the challenging workouts he will put you through. Marc is truely a professional , kind and most of all so knowlegeable. Get ready !! You will succeed!! I cant wait 'til round 2."
Kim DeMico, age 47 aka "Carb Queen"

"If you are fortunate enough to get Marc as your trainer and nutritionist,you will have all the tools you need to lose what ever amount of weightyou want. The only thing that will hold you back would be your lack of commitment. I remember one of my first training sessions with Marc. He said to me, "You can accomplish what ever you commit to, you are the author of your book, you write the script." Marc's firm, fair, and consistent tracking of my diet was the best. In just nine (9) weeks I lost 65 lbs, which is 29.2% of my body weight. I am walking on air. I can not thank Marc enough for giving me the body I have wanted for over 25 years."
Robert Salke, Durham CT
"Because I was having pain & difficulty with my walking gait, I went to Marc to see if specific hip stretching and loosening of the area would help alleviate the discomfort. Marv worked with me, with great patience, and lots of know-how. I was a bit better but eventually had to have total hip replacement. The surgeon was amazed at the flexibility that I had PRIOR to the surgery and prognosed a rapid, full recovery. That is exactly what happened.The physical therapists repeatedly told me how rapidly I was progressing. And now, I am continuing with general work with Marc. I feel great ! The workouts also help with my tennis game(yes, I was back on the tennis courts quickly), my yoga practise, and the stamina to fast walk for an hour weather permitting and to have fun with Zoomba classes ! Marc has the knowledge, the patience, and the encouraging personality to keep you in wonderful condition, regardless of your age!"
Marcia Jamron, Orange CT
"I had the opportunity to work with Marc for 9 weeks, and lost 44.8 lbs! It was the first time that I was able to successfully stick to a plan. Marc tailored a meal plan, and designed workouts , and the results were immediate and remained consistent. I averaged 5lbs. per week. It was so exciting each week to get on that scale and see the results ! The most rewarding part was realizing my potential. Marc is extremely knowledgeable in both nutrition, and exercise. It was a perfect blend of nutritional counseling, and a progression in exercise. I was always somewhat athletic but, had become inconsistent with my work outs, and very sluggish. It feels incredible to be able to run, take spin classes, and do interval training. His work outs were so effective, I was amazed at how quickly I got into shape. Marc has the ability to individualize to meet any medical need, or physical limitations. Being over weight, I never thought I would be capable of participating in a triathlon but, did so very successfully after working with Marc. He improved my cardiovascular and over all health. Blood pressure is down, weight is down, energy is through the roof! I have overcome some terrible habits and have implemented lifestyle changes that will stick. I tossed out 13 pair of pants, bought all new. Marc is an outstanding individual, he cares, and will see his clients through their biggest struggles, and celebrate every achievement. It was a privilege to tap into his knowledge and experience. He is at the top of his profession, and gets you the results you want. Nothing in the world seemed impossible to me except for my constant battle with weight. I no longer feel defeated, I have experienced success, and it feels great!"
Brenda Sullivan
Orange, Ct.
Age 46